State Memorial Museum of Leningrad Defense and Blockade (Siege)
Address:
9, Solyanoy Pereulok street
Museum of Leningrad Defense and Blockade
The exhibits showcased in this museum are dedicated to the tragedy that befell St. Petersburg ("Leningrad" in Soviet times), which survived an 872-day blockade during World War II. Here, you can see documents, photographs, and unique material evidence of mass starvation, everyday life, and how the main stages of the blockade developed. The museum took shape hot on the heels of the blockade itself, before the end of the war, and was the first witness to the tragedy, as well as an attempt to make sense of it.

The museum itself also had some bad luck, and was in a "blockade" for several decades – after the war, Stalin and the party did not like the excessive frankness and truthfulness represented by the evidence in the museum. Already back then they started to mythologize and ideologize the war's history. The museum was shut down, and part of its exhibits were destroyed.

The museum was only given life again in 1990, at the end of the perestroika period.
Reader opinions Ratings: 1 (average 5 of 5)
Guided tours that include this sight
See all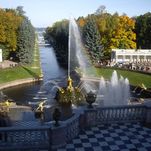 During this 4-day tour you will visit the most significant places inside and outside the city. After these 4 full days of excursions you will be able to call yourself a real expert on Russian art and...
Read more
A historical excursion throughout a complicated time in the city's history, which lived through a blockade and suffered enormous losses.
Read more