High-speed and regular trains Moscow - Saint Petersburg
Railway transport Moscow-Saint Petersburg: regular and high-speed trains

Both of Russia's capitals, so to speak, have been connected by railroad transport for more than 150 years (regularly scheduled transport started in 1851). It is the most popular route of travel and, perhaps, the most modern.
The distance of 645 kilometers can be covered on different trains at different times (more than 30 regularly scheduled trains operate per day):
1. High-speed Sapsan trains Moscow - Saint Petersburg
This is the practical way to travel: it is fast, runs at almost any time of day that is convenient, has seating accommodations and the Internet.
13-15 times per day
,
travel time - 4 hours

The advantage over air travel is that departure and arrival is in the city center (solving the problem of traveling to the airport), you do not have to waste time on going through registration, handing over and receiving baggage, and other procedures (a minimum of 1.5 hours before departure time).


Schedule for Sapsan trains, Moscow - Saint Petersburg :
From Moscow : From Saint Petersburg :
| Moscow Departure | Arriving in Saint Petersburg | Travel time | | Saint Petersburg Departure | Arriving in Moscow | Travel time |
| --- | --- | --- | --- | --- | --- | --- |
| 5h45 | 9h15 | 3h30 | | 5h30 | 9h00 | 3h30 |
| 6h50 | 10h52 | 4h02 | | 6h40 | 10h43 | 4h03 |
| 7h00 | 11h00 | 4h00 | | 6h50 | 10h50 | 4h00 |
| 9h03 | 13h20 | 3h17 | | 9h00 | 12h58 | 3h58 |
| 9h40 | 13h32 | 3h52 | | 9h10 | 13h05 | 3h55 |
| 11h30 (we) | 15h16 | 3h46 | | 11h00 (we) | 14h46 | 3h46 |
| 11h40 (we) | 15h26 | 3h46 | | 11h10 (we) | 14h56 | 3h46 |
| 13h30 | 17h25 | 3h55 | | 13h00 | 16h58 | 3h58 |
| 15h30 | 19h16 | 3h46 | | 15h00 | 18h45 | 3h45 |
| 15h40 | 19h27 | 3h47 | | 15h10 | 18h59 | 3h49 |
| 17h30 | 21h16 | 3h46 | | 17h00 | 21h00 | 4h00 |
| 17h40 | 21h35 | 3h55 | | 17h10 | 20h56 | 3h46 |
| 19h30 | 23h25 | 3h55 | | 19h00 | 23h00 | 4h00 |
| 19h40 | 23h44 | 4h04 | | 19h10 | 23h10 | 4h00 |
| 21h00 | 00h40 | 3h40 | | 21h00 | 00h40 | 3h40 |









































Tickets prices for high-speed Sapsan trains, Moscow-Saint Petersburg :
- $30-60 in economy class,
- $70-130 in business class, depending on date when acquired and time train departs;
- $140-220 in premium class
Buy Sapsan tickets Moscow - Saint Petersburg

2. Regular "nighttime" trains (sleeper cars) :
Regular trains: make the trip in 7-10 hours, with 2 or 4 beds per compartment; Depending on the class, comfort level, and type of train the cost varies from 30 Euro (a bed in a 4-bed compartment) to 70 Euro (a bed in a 2-bed compartment) to 240 Euro (a luxury compartment with one bed). The so-called "branded" trains enjoy a special reputation, since they have their own traditions, history, outer appearance, and interior look, and have made their way into literature and the movies. For example, the "Red Arrow", "Neva Express," "Grand Express," etc.
The availability of any amenities, including the Internet, can be checked beforehand.

In 2015, they started to operate a two-tier train that is quite comfortable – routes 5/6 leaving daily at 10:50 p.m. and arriving at 6:46 a.m. in Moscow, or 6:34 a.m. in Saint Petersburg.

The advantages of this mode of travel are the ability to get a good night's sleep and not spend time during the day to travel.


To buy tickets on the Moscow-Saint Petersburg train you can turn to us for assistance, indicating the following information:
- Full name
- Passport number and expiration date
- Citizenship
- Date
- Preferences in terms of type of car and train

You can also purchase tickets on your own on the English version of the Russian Railways website: https://eng.rzd.ru (attention: the site is not always too convenient, and might require some effort to use – pay attention to all the rules for purchasing and registering the tickets).

(NB) For reference - types of cars in Russian trains:
- Platskart (third-class): This is a bit of an anachronism; the car does not contain any closed spaces, with 54 beds arranged along the corridor divided by compartment walls but with an open corridor. We do not recommend this kind of travel except for those who want a taste of the exotic.
- Kupe (second-class): There are 4 beds per compartment. If you are traveling as a family, with more than 4 people, this might be a quite suitable option, even though there is not a lot of space in the compartment. There are 4 beds at two levels, like bunk beds. If there are fewer than 4 of you, then be prepared to share the compartment with strangers.
- SV (first-class): There are two beds in each compartment.
- Luxury: The compartment has one bed.



Moscow and Saint Petersburg Railroad Stations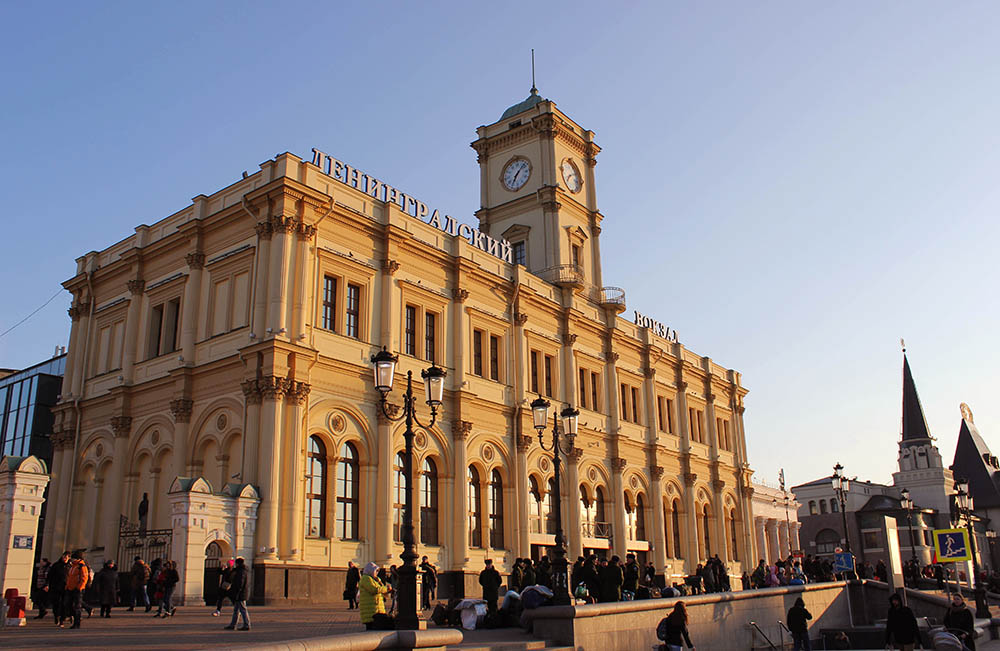 Historical information
A railroad between the capitals was laid down starting in Saint Petersburg (the capital at the time) and going to Moscow, not the other way around.
This is why two train stations, the Moscow Train Station (in Saint Petersburg) and the Leningrad Train Station (in Moscow, previously named the Nikolayevskiy Train Station, in honor of the emporer Nicholas I), were built under projects from one architect, Konstantin Ton, in one style.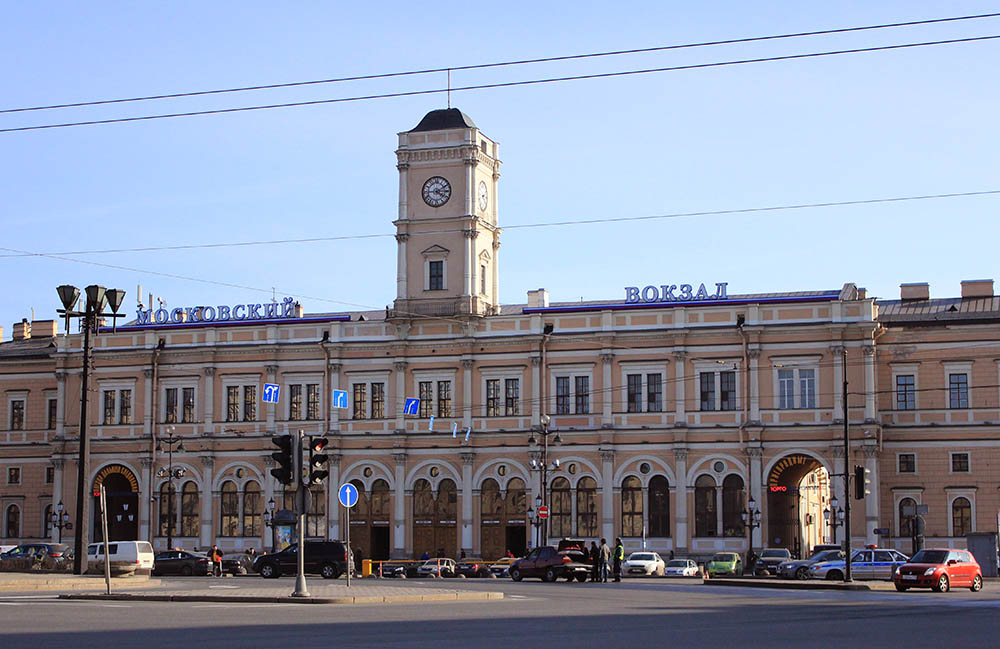 In essence, they are twin railroad stations, as Russians call them.
There is a curious commercial aspect to this: the Leningrad Train Station in Moscow is not part of the Moscow railway department, but is still part of the Saint Petersburg railway department.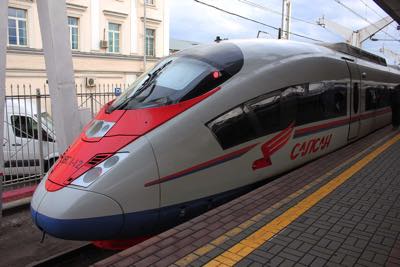 Reader opinions Ratings: 3992 (average 3.3 of 5)