Saint Petersburg private guide
A tour guide in Saint Petersburg: visit the city with a professional local guide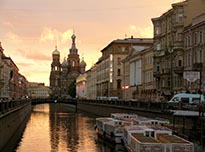 Saint Petersburg is usually considered to be the cultural capital of Russia, so it attracts significantly more tourists than Moscow. This is somewhat surprising, since usually tourists go to other countries to see what is the most original and authentic, and, naturally, what is the oldest. On the one hand, Saint Petersburg is one of Russia's youngest cities (slightly more than 300 years old), but it is also the most European city in terms of its concept and incarnation (meaning it is the least "Russian" in terms of design and appearance).
And nonetheless, Saint Petersburg is frequently visited by foreign tourists, and since that is so, there must be good reasons.

Despite how young it is, the events and metamorphosis that have come out of Saint Petersburg's history are enough for several millenia: transferring the capital, several revolutions, and 4 name changes (Peterburg, Petrograd, Leningrad, and finally Saint Petersburg). For Russian culture and its golden age, Saint Petersburg has become the center, and the names of Pushkin, Dostoyevsky, and Tchaikovsky are inseparably connected with it.

Our team of guides in Saint Petersburg consist of natives from the city who grew up there and know its every corner. Over the past 15 years, we have devised and fine-tuned our own itineraries, so that we may step back from the standard models that were accepted a long time ago – even in Soviet times.
We believe that talking with a local guide is the way you can learn more general – and necessary – information about the sights and history of Saint Petersburg. This is also the best way to learn deeper aspects – Russian traditions, its mentality, and culture code.
Communication with a local guide also gives you an opportunity to ask any questions you wish, and via this communication you can arrive at your own understanding of Russian culture.

We introduce our team of guides in Saint Petersburg:
Olga
Olga was educated as a philologist, and speaks French incredibly well, and gives different kinds of tours around Saint Petersburg in French. Besides traditional tours around the downtown area, to Peter and Paul Fortress, to Yusupov Palace on Moika, and other sights, Olga has an excellent repertoire of historical materials. You will have an especially interesting time immersing yourself in Saint Petersburg's history (and Russia's, since they are inseparably linked) visiting museums with her like the State Memorial Museum of Leningrad Defense and Blockade and the Museum of Political History, which are both dedicated to the upheavals that occurred in the 20th century.


Alexei
Alexei is a guide who speaks fluent French and Italian, and is a simultaneous interpreter who has traveled a lot around Europe, living in Rome for five years. Alexei knows the city extremely well, its downtown area, palaces, museums, and places that are off the beaten path. He will help you plunge into the city's history, and understand modern-day Saint Petersburg as well as its legends and the tales that swirl around the people who glorified Saint Petersburg.

Yulia
Yulia is one of the most experienced guides on our team, and has more than 20 years' worth of experience heading excursions around her native city in French. Yulia knows a lot of interesting information about almost every building, so she often comes up with her own tours, and allocates her time so that she can show her groups or individual travelers as much as possible. One of her favorite itineraries around the city's historical center is a walk around the city known by Dostoyevsky, Gogol, and Pushkin.


Elena
Elena is also a philologist by education, but is a guide by calling. Elena knows how to enthrall both adults and children with her stories. If there is an opportunity in the schedule, we try to make sure that Elena is the one who gives tour around the city for visiting families, since this requires a special approach and skill. She has more than 25 years of work experience and yet still possesses endless curiosity and passion for the history of St. Petersburg; thanks to these qualities, the excursions that Elena gives each time are different, and complement each other.

Katya
An art historian by background, Katya started as an in-house tour guide for the Hermitage Museum. For this reason, she can give tours to the Hermitage with her eyes closed, and knows every square centimeter by heart. The desire to grow further, and expand the geography of her interests, led to Katya getting educated as a guide, with all the necessary licenses and permits issued by Saint Petersburg's museums, and for several years she has been happily giving tours around the city and its famous country estates: Peterhof, Tsarskoye Selo, and Pavlovsk. Katya has a terrific understanding of art history and architecture, so wherever you end up with her, she can show you the city in an interesting and broad context.

;
Book a tour in Saint Petersburg with your private local guide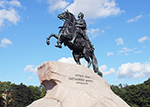 Reader opinions Ratings: 8 (average 4.8 of 5)