Moscow local guide in English, Spanish, Portuguese, French and German
Our guides in Moscow – the IdeaGuide team

One of the main advantages of taking a tour in Moscow with a local guide is not only for the history, information, and new knowledge that the guide will doubtlessly convey to you, but getting to know a real native – a person who grew up there and feels the city's life since he or she is an integral part of it.
All of our guides were born in different regions of Moscow. And each of them brings his or her personal experience as a local historian to our guided tours and tour programs.

Here is what our team of guides in Moscow that speaks various languages (English, Spanish, Portuguese, French, German and others) looks like:

Dariya
Educated as a translator, Darya became so involved in the city's history and architecture that one day she just changed her profession, and decided to devote herself full-time to it. One of her favorite routes involves the theaters of Moscow and representatives from its theatrical life, and also she enjoys different literary walks (the Moscow known by Tolstoy, Bulgakov, etc).


Nataliya
A translator and philologist who speaks Spanish, Natalia became fond of Moscow's history when she was still a student, and with time became one of the most competent and well-known guides in the city. Nataliya knows how to present all the familiar places and museums in the city from a fresh point of view, and in such a way that someone who has visited a particular place before will still learn much – and will be surprised at how much he or she never noticed before. She is the person who put together many of our tours, in particular those for Moscow's Art Nouveau, Stalin-era architecture, and Moscow's theatrical life. Besides that, Nataliya is an expert in Russian literature, so her walks around Moscow are accompanied by stories from the life and creativity expressed by Russian writers. With her, you will discover extremely interesting routes past Moscow to Zvenigorod, Nikolina Gora, Vladimir, Suzdal, and, naturally, Yasnaya Polyana, Leo Tolstoy's estate.


Dariya
Tours around Moscow as performed by Dariya in Spanish rarely leave our visitors underwhelmed. The secret is most likely just that Darya is passionate about her native city, and the history of Russian culture in all its manifestations – painting, architecture, and the historical metamorphoses of Russia. Besides traditional walks around Moscow, Darya regularly comes up with the new ones, often together with our visitors, who want something unusual. For example, the Italian roots in the architecture of Russian monasteries, or the Moscow addresses associated with Tolstoy's novel, War and Peace. In reality, Moscow is a multilayered pie, and many years can be spent digging down through each level.
Anastasia
Besides the fact that Anastasia is a very competent guide who knows very much about Moscow, she also knows how to talk about complicated things using simple language. This is very important during eventful and multilayered excursions like those around the Moscow Kremlin, Sergiyev Posad, VDNKh, the Museum of Tolerance, or the GULAG History Museum – in other words, about the points and areas in Moscow where different eras cross paths, contradictions arise, and many opinions exist.
Maria
A philologist and translator by background, as well as a resident of one of the most interesting neighborhoods in Moscow, Prospect Mira, Maria has been showing visitors her favorite parts of the city for many years now. She is a real connoisseur of Moscow, and a guardian of Moscow's secrets and mysteries, from the Middle Ages to Soviet times. In addition, she is an enthusiastic scholar of the city's history during the Stalin era: Stalin's skyscrapers, the Moscow Metro, and VDNKh.


Dariya
Darya is a fine art expert and art historian, as well as a specialist in Russian paintings. Tours around Moscow's painting galleries – above all else, to the Old and New Tretyakov galleries, to the Pushkin Museum, and the Museum of Russian Icons – the way she gives them will not leave anyone unmoved. However, Darya in no way confines her stage to only include museums, and gives many themed tours around Moscow's historic neighborhoods: Zamoskvorechye, Khamovniki, and Arbat. She also gives tours on Moscow's architectural styles.

Galya
Galya is a resident of Moscow's Arbat region, where the city's main pedestrian street lies. A guide with many years of experience, she is truly keen on Russian literature and history. In Galya's stories, you will learn many authentic stories about prominent figures in Russian literature, about Pushkin, Tolstoy, and Chekhov, about the historical shakeups that Russia is so famous for, and about Soviet-era dissidents. Galya knows how to connect the dots between different eras. In addition, she has supreme knowledge of the history of Moscow Art Nouveau and constructivism.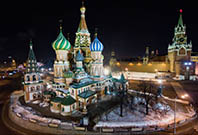 Reader opinions Ratings: 34 (average 4.4 of 5)