Russian holidays
In Russia, there are holidays that originate from various ancient (and not so ancient) traditions, and we recommend taking the holiday calendar into consideration: some of them might be interesting for you to participate in, while other might not.

Here are some large-scale holidays and the dates when they take place:
December 31st or the New Year: this is the country's main holiday. It starts December 31st and lasts for 10 days! Enjoying a traditional holiday table, and celebrating the New Year while the carillon is striking on Red Square in Moscow, can create good memories. It is important to keep in mind that many museums are closed on January 1-2.
January 6-7: Christmas (according to the Eastern Orthodox calendar). This holiday is celebrated with nighttime religious services in churches, including the Cathedral of Christ the Savior: the Patriarch of Moscow and all Rus' leads the service there. If you are interested in Eastern Orthodox traditions and rituals, this is one of the most vivid times of year.
The time period from May 1-9: these are called the "May Holidays" in Russia. They unify the International Workers' Day on May 1st with the Victory Day on May 9th. There is a traditional military parade on May 9th, with people walking around downtown, listening to outdoor concerts and participating in different activities. It is important to note that a lot of streets close down to motor vehicle traffic and become pedestrian on this day.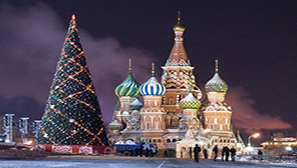 Reader opinions Ratings: 13 (average 4 of 5)