Russian vodka
Everyone knows what vodka is, but not many people go into details to learn more about this traditional Russian product that presents a great interest for the visitors of Russia as well as the locals. We are going to tell you a little more about this drink with ancient history.
You can learn about what real Russian vodka is during a special historical or cultural guided tour. The answer to this question is not as obvious as it would seem. Strangely enough, it is not that easy to buy and try real vodka - unless, of course, we talk about marketing and the widespread sales of hyped brands. Whether these brands are real Russian vodka is not a clear-cut issue (something with which these same widely known brands would, no doubt, disagree). We recommend becoming more familiar with this topic before buying drinks that are offered to you. In most cases, you will find the kind of vodka that has prevailed for one hundred years: commercially-produced ethyl alcohol diluted with water. We do not consider this authentic, due to the fact that real Russian vodka, so-called "bread wine", was traditionally distilled using grain crops, and this kind of production was virtually banned by the authorities more than 100 years ago.





Meanwhile, traditional Russian alcoholic drinks, luckily, are more diverse and interesting: in Russia, we would recommend trying various infusions and liquors, mead, sbiten (a drink with honey and spices), and other traditional drinks.​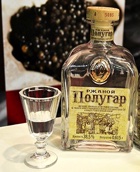 Reader opinions Ratings: 28 (average 4 of 5)