Museum of Political History of Russia
Address:
2-4, Kuibysheva street
An interesting museum that contains a large number of exhibits that provide a specific, and not just an abstract, understanding of many pivotal events in Russian history.
Museum of Political History in Saint Petersburg, Matilda Kshesinskaya mansion
A tour throughout this museum will permit taking a step back from the "book" option and becoming enriched when presented with illustrative materials in a collection of authentic items and objects: interiors, furniture, posters, household items, and all the wealth presented in artefacts.

This tour will draw you closer to understanding the twentieth century, a complicated one in Russia's history. We also want to note that the museum is located in the mansion that belonged to the ballerina Matilda Kshesinskaya, and is a curious example of Art Nouveau – so the tour is also interesting from an architectural standpoint.
Reader opinions Ratings: 7 (average 3.6 of 5)
Guided tours that include this sight
See all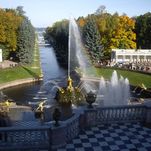 During this 4-day tour you will visit the most significant places inside and outside the city. After these 4 full days of excursions you will be able to call yourself a real expert on Russian art and...
Read more
A historical excursion throughout a complicated time in the city's history, which lived through a blockade and suffered enormous losses.
Read more