White Nights in Saint Petersburg
This is a short (2-3 weeks in June) but romantic period in the city's annual life.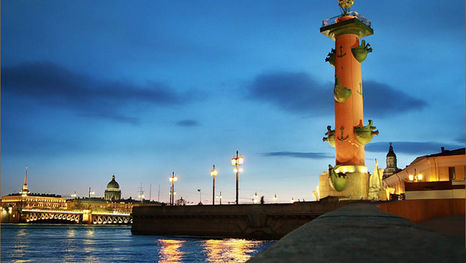 White Nights in Saint Petersburg
Russia's northern capital is famous for its White Nights (the period from the beginning of June to the beginning of July) – a unique time of year when it is almost as light at night as it is during the day. This is the favorite time to take a stroll for residents and visitors alike. The whole world knows about the White Nights thanks to poems by Pushkin, and a story by Dostoevsky, that bear the same name.

A walk around Saint Petersburg during the time when the White Nights are in the sky leaves an indelible impression: you will see convoys of vessels passing under raised drawbridges, sculptures and architectural monuments all lit up, and warm summer air that combine to make a stroll around the city at night unforgettable.

The drawbridges opening in Saint Petersburg is one of the city's traditional nighttime sights that happens during the Neva River's navigational period (for vessels, that is from spring to fall). The schedule when the drawbridges are raised varies, but it generally occurs during the time period from 1:30 a.m. to 4:00 a.m. Taking into account that the metro is closed, you risk being stranded for a little while.

Our guided tour around Saint Petersburg during the White Nights will allow you to gain a unique perspective on the city in terms of the route taken and the incredible atmosphere that Saint Petersburg becomes immersed in. We will see places that will show themselves to you in a new light. Besides just the informational content, the White Nights represent a wonderful opportunity to feel the city at an emotional level. The tour also includes a nighttime visit to the Peter and Paul Fortress (historically, Russia's most prominent political prison, home to many prisoners, including the Decemberists and Fedor Dostoevsky), a boat cruise along the city's channels, and a visit to an artists' cemetery on the premises of the Alexander Nevsky Monastery (a historical necropolis for Russia, where Tchaikovsky, Mussorgsky, and Rimsky-Korsakov, and others are buried).
Reader opinions Ratings: 2 (average 5 of 5)