Boat trips along the canals and rivers of Saint Petersburg
A boat cruise along the canals and rivers is one of the essential components of your visit to Saint Petersburg. It provides you with a marvelous opportunity to look at the city from an unexpected point of view.
(from May to September)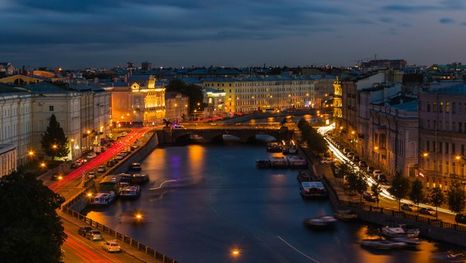 Boat trip down Saint Petersburg canals and rivers
Saint Petersburg is often called the "Venice of the North." Just like the Italian city, with all its canals, its Russian counterpart looks fabulous from the water. After all, it does have 40 islands and 400 bridges. Each bridge is something special, each riverbank is beautiful in its own way. To appreciate the charms of each one, we will go in a comfortable boat along Saint Petersburg's renowned rivers and canals, repeatedly cited in classic Russian literature – the Fontanka River, the Moyka River, the Kryukov Canal, the Griboedov Canal, and the magnificent Neva River.

You will get the stupendous chance to look at drawbridges and riverbanks from new perspectives, as well as some secrets nooks in the city which cannot be seen when ambling along the sidewalks by foot.

A boat trip along the city's canals lasts around 1 hour, and can be scheduled as part of a panoramic sightseeing tour.

Reader opinions Ratings: 2 (average 5 of 5)