Pushkin (Tsarskoye Selo)
An excursion to the famous Catherine Palace and the park in the vicinity (during the summer); getting to know an era, its exemplary Late Baroque, and a singular ensemble.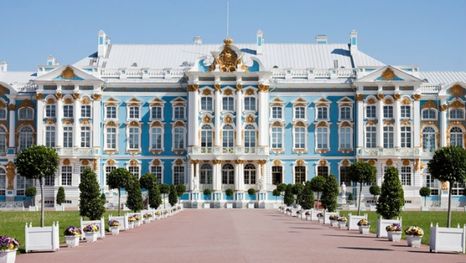 Catherine Palace in Pushkin (Tsarskoye Selo)
Pushkin, known also as Tsarkskoye Selo, is a city 25 kilometers from Saint Petersburg, renowned for its Catherine Palace and the surrounding group of parks, palaces, and pavilions: this ensemble took shape over the course of 100 years, and is today a museum rich in history – a historical monument.
The great Russian poet Alexander Pushkin studied at the famous Tsarskoye Selo Lyceum, and that subsequently conferred its name upon the city.

The main sight is, without any doubt, the Catherine Palace, built in the middle of the 18th century, and its baroque exterior and famous interior design hold significant appeal, including the Amber Room, shrouded in legends. In addition, a stroll around the park, with its many outstanding pavilions, is worthy of particular attention.

A guided tour, given in English, French, Spanish, Portuguese and German through Pushkin will let you get acquainted with the ages lived in by Russian rulers, starting with Catherine I, the second wife of Peter the Great, but primarily with the period of Catherine the Great (1762-1796).
Reader opinions Ratings: 1 (average 5 of 5)