Pushkin (Tsarskoye Selo)
During the guided tour to the famous Catherine Palace and the adjacent park (in summer) you will get to know the era of Late Baroque and dive straight into the history of the Russian empire.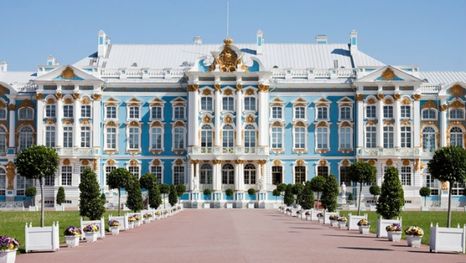 Catherine Palace in Pushkin (Tsarskoye Selo)
Pushkin, known also as Tsarskoye Selo, is a town located 25 kilometers from Saint Petersburg. It is famous for the Catherine Palace and its architectural ensemble composed of unique palaces, pavilions, and parks: the ensemble took shape over the course of 100 years, and today it is an important historical monument.
The great Russian poet Alexander Pushkin studied at the famous Tsarskoye Selo Lyceum, and that is why this small town bears his name.

The main sight is, without any doubt, the Catherine Palace, built in the middle of the 18th century. Its baroque exterior and famous interior design attract thousands of tourists and history enthusiasts every year. During this tour you will also visit the legendary Amber Room. Moreover, if the weather is fine, you will particularly enjoy a stroll in the park with its pavilions.

A guided tour, given in English, French, Spanish, Portuguese and German, through the town of Pushkin will allow you to learn more about certain periods of the history of the Russian empire, especially, the period of reign of Catherine the Great (1762-1796).
NB: during the high season (from May to September) skip-the-line access to the Catherine Palace is limited due to the large number of tourists from cruise ships. We recommend opting for afternoon tours, and book your guided tour well in advance.
Reader opinions Ratings: 9 (average 4 of 5)