Guided tour to Peterhof
Peterhof, the summer residence of Peter the Great, is one more "must-see" during your tour to Saint Petersburg. Incredible landscape gardens, fountains, parks and the famous Grand Palace with overwhelmingly beautiful interiors make Peterhof an amazing attraction for all the visitors of the city.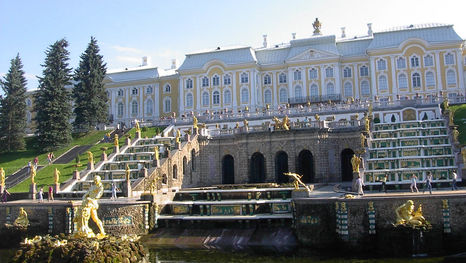 Peterhof Grand Palace - guided tour
Peterhof is a small town on the shoreline of the Gulf of Finland in 28 kilometers from Saint Petersburg, that was established after the order of Peter the Great. Its architectural ensembles and parks present great interest for tourists all over the world. Famous fountains and water cascades, the baroque-style Peterhof Grand Palace, parks and gardens attract the attention of millions of visitors every year.

We suggest that you spend the whole day in Peterhof rather than choose a short 4-hour tour, especially if you are staying in Saint Petersburg for more than 2 days.

During the summer (from May to October), you can visit the Grand Palace and walk in the Upper and Lower parks among palaces and fountains. The Monplaisir Palace, Marly Palace, the Hermitage Pavilion, the fountains Samson Tearing the Lion's Jaws, Samson, Pyramid, and others, create a unique ensemble that tells the story of different ages and styles in imperial Russia.

Furthermore, in summer, getting to Peterhof is possible not only by public transport, but by high-speed hydrofoil from the quay in the downtown of Saint Petersburg, which, by itself, is already an interesting experience.

It also makes sense to go to Peterhof in winter: together with a tour guide, you can visit the Peterhof Grand Palace and enjoy its expressive, historical interior and exhibits. Snow cover in the parks (despite the dormant fountains and complete quietness) adds up to an already spellbinding sight, and you get to enjoy a really unique view.
Reader opinions Ratings: 3 (average 5 of 5)