Alexander Nevsky Monastery
Address:
1, Monastyrka Embankment
Alexander Nevsky Monastery (Saint Alexander Nevsky Lavra)
This is Saint Petersburg's first monastery, almost as old as the city itself, founded in 1710.
It always played an important role in city life right up to 1918, when it was phased out. It resumed functioning as a full-fledged church in 1996.

During a tour here, we visit the Holy Trinity Church, the Church of the Annunciation, and other significant buildings that are part of this monastery's historical ensemble. The Masters of Arts Necropolis, located here, is also quite noteworthy.
Reader opinions Ratings: 2 (average 3.5 of 5)
Guided tours that include this sight
See all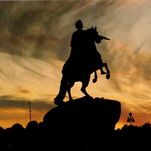 This guided tour is perfect for those in the city for the first time. It gives you an opportunity to see its most famous sights in just a few hours.
Read more