Masters of Arts Necropolis (Tikhvin Cemetery)
Address:
1B, Alexander Nevsky Square
Masters of Arts Necropolis (Tikhvin Cemetery) at Alexander Nevsky Monastery
This is located in the Alexander Nevsky Monastery, and is certainly quite interesting, both in terms of the people whose path through life wound up taking them here (Tchaikovsky, Mussorgsky, Rimsky-Korsakov, Glinka, Dostoyevsky, Petipa, and other figures who need no introduction) and the quality of the artefacts, especially the headstones and sculptures.

You can visit this necropolis, the most important one in Saint Petersburg, as part of a tour to the Alexander Nevsky Monastery or you can include it as a separate item in the program.
Reader opinions Ratings: 6 (average 3.3 of 5)
Guided tours that include this sight
See all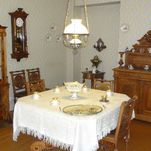 This tour is a plunge into the world of this great writer and his characters.
Read more