GUM - Main Department Store
GUM – the classic mall for souvenirs, a cup of coffee with a view on Red Square, and simply a landmark building for Moscow. We suggest visiting it during a sightseeing tour, or after a visit to the Moscow Kremlin.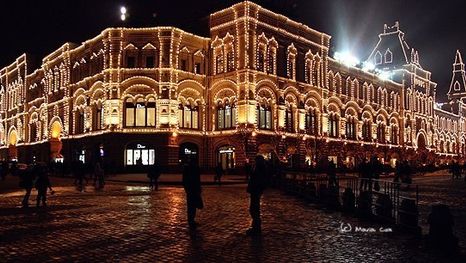 GUM, Main Department Store on Red Square of Moscow
The "Main Department Store" (1891, architect A. Pomerantsev, engineers V. Shukhov, A. Loleyt) is a building whose main façade faces Red Square, and that itself makes it unique.

The combination of ancient Kremlin walls, the constructivist Lenin's Mausoleum, and the traditional exterior of GUM is Moscow's calling card and the city's central panorama.

This historical spot - literally called the Upper Trading Rows – became embodied in this building, with its pseudo-Russian (or neo-Russian) style and famous overhead crossbeams, done by the outstanding engineer Vladimir Shukhov. The building lived through the revolution, Soviet transformations, and is now used as a department store again that houses many boutiques today.

In the 1930's, they intended to demolish the building to add space to Red Square, make more room for military parades, and because of building the 8th Stalin Skyscraper. Luckily, the plan never materialized.
Today, it is worth visiting GUM to admire the architecture and interior, drop by Gourmet Food Store No. 1 (Gastronome №1), which offers traditional Russian and Soviet food products, or relax in a café with a view of Red Square.
Reader opinions Ratings: 19 (average 3.9 of 5)
Guided tours that include this sight
See all
We will show you the most varied facets of the city: history, artwork, architecture, and daily life. In only two days, you can become a genuine expert on the city.
Read more
This travel itinerary will let you see Moscow in different ways, both as a guest and as a local Muscovite, you will visit many places and learn a lot about Russian culture and life. The...
Read more