Red Square
This is the most important square not only in Moscow, but in the whole country. It is the main sight of Russia, its calling card, a central symbolic and somewhat mystical place, whose turns of fate are inextricably linked with the ups and downs of Russian history. The ensemble of the square is included in the UNESCO World Heritage List.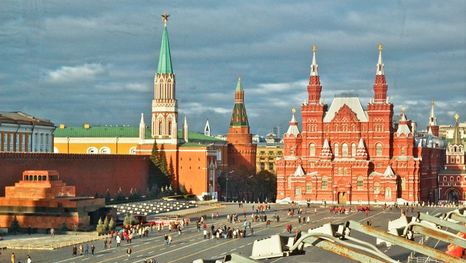 Moscow Red Square
Besides the fact that all key sights are located here (Saint Basil's Cathedral, GUM department store, the Monument to Minin and Pozharsky, and the State Historical Museum) a lot of different events take place there: from big concerts to the annual Victory Day military parade on May 9th. The Kremlin's Spasskaya Tower, with a chiming clock, is another important part of the ensemble. Every year the whole country with glasses of champagne and fluttering hearts waits for this clock to bring in the New Year. It is impossible to imagine getting to know Moscow without seeing this significant place.

Usually, we visit Red Square either before or after a guided tour to the Kremlin.

Besides the sights already mentioned, there is a lot of other important things to discuss. The Soviet government made Red Square a place with sacred powers, placing there the tomb of Vladimir Lenin, the founder of the Soviet Union. Behind the Mausoleum, they created a necropolis for the most important figures of the time: Stalin, Gagarin, Gorky, Brezhnev, and others. Posthumous proximity to the body of the Founder was seen as an extremely important privilege.

However, the existence of a necropolis on the country's main square does not, for example, prevent them from laying down an ice skating rink during the winter, or holding concerts there (for example, in 2003 Paul McCartney momentously sang Back In The USSR here).

Red Square is undoubtedly one of the most important places to visit in Moscow in order to understand Russia.
Reader opinions Ratings: 11 (average 4.7 of 5)