Pushkin Museum of Fine Arts
Address:
12, Volkhonka street
Tour through one of Moscow's main galleries, rich with European paintings, including an impressive number of works from the collectors of impressionist art Shchukin and Morozov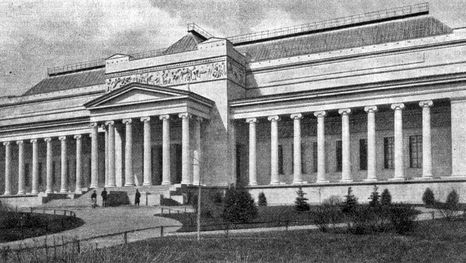 Alexander III Museum of Fine Arts in 1912 (before the title's change)
In 2012, the museum celebrated its one-hundredth anniversary. The museum building itself is an architectural monument, build according to a project done by the architect Roman Kleyn. Ivan Rerberg and Vladimir Shukhov also took part in the project, who were iconic figures in the world of Moscow architecture themselves. The building was conceived as a guide through the history of architecture, and unifies disparate styles: an Ionian colonnade, a classic façade, and inside a glass roof with the latest technology to let in sunlight and allow the exhibits to be seen without artificial lighting.

The museum's collections include works of art from Europe from antiquity up to the 20th century, and as of today this is the museum with the most extensive collection of European paintings in Moscow. It is comprised of collections confiscated from Russian art collectors Sergei Shchukin and Ivan Morozov by the Soviet government. As a result, the collection includes masterpieces from world-renowned artists like Renoir, Picasso, Van Gogh, Monet, Cezanne, and many others.
Reader opinions Ratings: 1 (average 5 of 5)