Memorial Museum of Cosmonautics in Moscow
Address:
111, Prospekt Mira ave, VNDKh metro station
This is one of Moscow's favorite museums for its visitors – both among the younger generation and adults.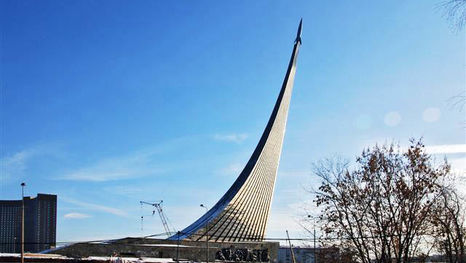 the Monument to the Conquerors of Space - visible from afar
Opened in 1981 in honor of the 20th anniversary of the first flight into space made by Yuri Gagarin, the Memorial Museum of Cosmonautics has become legendary thanks to an exhibition area rich in content and a striking exterior.

The museum's location is visible from afar, thanks to a 107-meter titanium monument erected in 1964 to the "Conquerors of Outer Space". The stylobate of this monument is where the cosmonautics museum was opened.

Large-scale renovations were completed in 2009, and a greatly expanded exhibition area was opened up that year that shows off space exploration. This is a good way to learn about one of the things that USSR citizens were proudest of, as well as about the legendary status accorded to the first man in space, Yuri Gagarin. The Cosmonautics Museum is right near the entrance to VDNKh parc (Exhibition of Achievements of the National Economy). We recommend combining tours to both of these, although visiting the museum on its own is worth it.
Reader opinions Ratings: 5 (average 4.4 of 5)
Guided tours that include this sight
See all
This travel itinerary will let you see Moscow in different ways, both as a guest and as a local Muscovite, you will visit many places and learn a lot about Russian culture and life. The...
Read more
Four days in Moscow is long enough to study the city from A to Z, from the famous must-see sights to the unusual and unique ones that tourists rarely visit.
Read more