Muzeon (park of arts)
Address:
2-bis, Krymsky Val street
A park with a symbolic graveyard of Soviet-era monuments that were gathered together there after the fall of the USSR. The park today is a work of art, and one of the most popular places in the city.
We recommend including this into a program together with the New Tretyakov Gallery tour or an excursion through Soviet-era Moscow.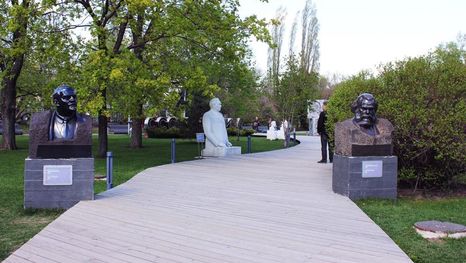 Muzeon park - guided tour
Muzeon (Park of Arts or Fallen Monument Park) – this park, which sprang up in the immediate vicinity of the Red October candy factory, has become a new, atypical spot in Moscow's life.
Multiple sculptures and monuments from the Soviet era were brought here from different part of the city, including the statue of F. Dzerzhinsky that stood for more than 30 years in front of the KGB building on Lubyanka Square.

Here, you can find monuments to I. Stalin, Lenin, and various Soviet leaders; Muzeon is a place to unexpectedly encounter a wide variety of figures (more than 700 sculptures).
It is worth coming here to admire this unique collection of Soviet sculptures.
Reader opinions Ratings: 27 (average 3.6 of 5)
Guided tours that include this sight
See all
We will show you the most varied facets of the city: history, artwork, architecture, and daily life. In only two days, you can become a genuine expert on the city.
Read more
Four days in Moscow is long enough to study the city from A to Z, from the famous must-see sights to the unusual and unique ones that tourists rarely visit.
Read more
A historical excursion into the troubled era of the 1930's – 1950's. Final analyses are contradictory, and you can assess the legacy for yourself.
Read more