Zaryadye Park
Address:
rue Varvarka, 8, Moscou
Today, this is a new park in the very center of Moscow, which opened up only in 2017. From a floating bridge, stunning panoramic views open up on the riverbanks. The park connects Red Square with the neighborhood called Kitay-gorod. One of Moscow's oldest streets, Varvarka (St. Barbara Street), delineates the northern side of the park.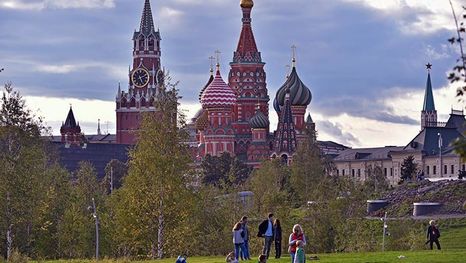 Zaryadye Park in Moscow
The history of Zaryadye is reminiscent of the story of the Cathedral of Christ the Savior: over the past 100 years, nothing has remained for very long in this small area. The historic neighborhood was demolished in the 1930's to make way for a Stalin-era skyscraper.
The skyscraper was supposed to dominate Red Square and align with the Palace of the Soviets (also never built).
The plans were not destined to materialize, and after Stalin's death the project was suspended for almost 20 years, so that only under Brezhnev, in 1967, the Hotel Rossiya was erected on the foundation of the skyscraper that was never built. The hotel - not the most phenomenal - stood here for a bit less than 40 years, and was demolished in 2006. Eleven years after that, Zaryadye Park opened here.

It is not surprising that native Muscovites ask, "What is going to be built here next?" We visit the area of Zaryadye during strolls around the historical downtown. The most priceless sights are the unique churches and cathedrals, which somehow survived the twentieth century, that stand along Varvarka Ulitsa (St. Barbara Street) in their original form.
Reader opinions Ratings: 8 (average 5 of 5)