Izmaylovo Market
Address:
73c2, Izmailovskoye chaussee highway
This is the best place in Moscow to buy souvenirs and authentic Russian folk handicrafts from far-away regions. There is an extensive choice, and people do haggle. This is unequivocally a better place than tourist shopping spot in the city's center.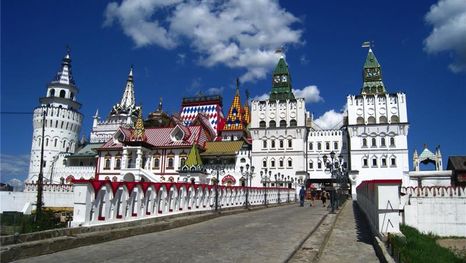 Izmaylovo wooden Kremlin
The Izmaylovo Market is a special place in Moscow, where a flea market and many folk art stalls run by private artists exist today.
In the wooden Izmaylovo Kremlin that was creaed there are streets doing a brisk trade: you will find a wide range of typically Russian crafts and keepsakes. Here, people buy knitted gloves, scarves, sweaters, fur hats, items from wood and stone.
In the antique stalls, there is everything from posters from the 20's and 30's to household goods. But be careful of the prices – it is important to know how to haggle. There are also a few small museums, including the Vodka Museum and the Folk Toy Museum.

On the whole, the Izmaylov Kremlin and Market is a not unsuccessful attempt to recreate the atmosphere of an old Russian city. The best times to come here are during the weekend.
Reader opinions Ratings: 8 (average 5 of 5)