Worker and Kolkhoz Woman Sculpture
Address:
123 B, Prospekt Mira avenue
This is perhaps the most well-known sculpture in the USSR, recently celebrating its 80th anniversary.
It is a symbol of the fanfare of socialist labor and of an era long gone. It is one of Moscow's key sights, imparting an understanding of Russia's history in the 20th century. We recommend including it in the excursion through Stalin-era Moscow, and when visiting VDNKh.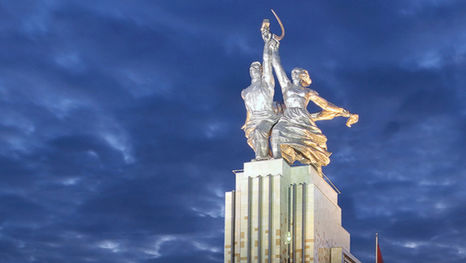 Worker and Kolkhoz Woman Sculpture
The Worker and Kolkhoz Woman Sculpture (sculptor V. Mukhina, 1937) is a real symbol of not only Moscow, but the entire USSR.
In addition, many visitors to Moscow do not know what a Kolkhoznitsa or Kolkhoz mean (collective farm and a female worker there). It is a rarity in the city, and one that literally "traveled" to Paris, where in 1937 it represented the USSR (the sculpture was erected on the roof of the USSR Pavilion).

Art historians note the uniqueness of the sculpture, embodying dynamics, swiftness, and freedom, while the atmosphere of 1937 was exactly the reverse - the peak of Stalin's repression. After the exhibition in Paris, the sculpture returned to Moscow, and in 2009 it was installed on a new pedestal that reproduced the USSR pavilion at the exhibition (in terms of height) and houses several museum exhibition halls.

The fate of the sculpture and its creator, Vera Mukhina, is complex, and reflects the country's history. You can learn about this from the story told by our guide.
Reader opinions Ratings: 23 (average 4.2 of 5)
Guided tours that include this sight
See all
This travel itinerary will let you see Moscow in different ways, both as a guest and as a local Muscovite, you will visit many places and learn a lot about Russian culture and life. The...
Read more
A historical excursion into the troubled era of the 1930's – 1950's. Final analyses are contradictory, and you can assess the legacy for yourself.
Read more