Alexey Dushkin
The creator of the most well-known Moscow metro stations in terms of their beauty and architectural design solutions.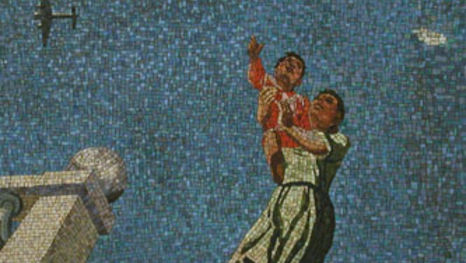 "Sky" series of mosaics in Mayakovskaya Station, Alexei Dushkin
Alexei Dushkin – (1903-1977)
One of the principal architects in Soviet-era Moscow, he left a particularly bright footprint in the
Moscow metro's architecture
. He designed landmark stations like
Mayakovskaya
(1938), The
Palace of the Soviets
(now called Kropotkinskaya, 1935),
Revolution Square
(1938), and
Novoslobodskaya
(1952).
Specialists note that Dushkin managed to do what many could not do in the metro – create a feeling of flight, that the viewer was not underground, but above the Earth's surface. The "Sky" series of
mosaics in Mayakovskaya Station
, the stained-glass windows in Novoslobodsksya Station, and the pillars that look like candlesticks in Kropotkinskaya Station all show how Dushkin used many creative techniques to work in harsh, underground spaces. The stations he designed are the best that the metro has to offer.
He also created one of
7 Stalin's skyscrapers
– the one above Krasnie Vorota Station.
Reader opinions Ratings: (average 0 of 5)