Excursion to Novodevichy Cemetery in Moscow
This is the country's unique central necropolis, often called a "Moscow Père Lachaise." It is intriguing not only because of the figures buried there and how it reflects their fates, but in terms of its sculptures and architectural design.
It is something like Moscow's "backside," and says more about it than you would expect.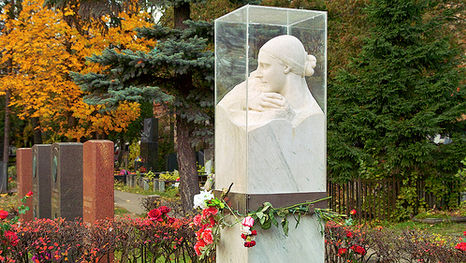 the grave of Nadezhda Alliluyeva (Stalin's wife) on Novodevichy Cemetery in Moscow
Novodevichy Cemetery was the main resting place for the Soviet elite, so it has become a kind of "Soviet history textbook." However, originally there were few people buried at the "old cemetery." Among them is Anton Chekhov. But in Soviet times the cemetery was significantly expanded, and nowadays it is hard not to run across a famous name.
Here lie composers (D. Shostakovich, S. Prokofiyev, A. Skryabin), writers (N. Gogol, M. Bulgakov), political figures and their families (N. Khrushchev, B. Yeltsin, N. Alliluyeva (Stalin's wife), R. Gorbacheva, Yu. Levitan, V. Molotov). Those buried recently at Novodevichy Cemetery include M. Rostropovich and G. Vishnevskaya.

A walk around the Novodevichy necropolis represents an interesting historical excursion. And its artistic legacy has many works of famous sculptors like V. Mukhina, N. Andreyeva. N. Tomsky, and I. Shadr.
Reader opinions Ratings: 15 (average 3.8 of 5)