Cathedral of Christ the Savior
Address:
15, Volkhonka street
This cathedral is famous for the tragic fate that befell it as well as its metamorphosis: it was built through an agonizing process on money collected from common citizens, and was blown up during the grandiose construction process of Communism in the Soviet era.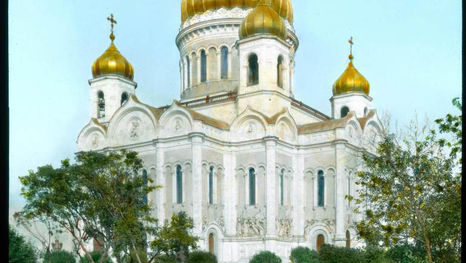 Cathedral of Christ the Savior before its demolition in 1931
Cathedral of Christ the Savior - this is a metropolitan cathedral of the Russian Orthodox Church that has, arguably, lived through the largest number of transformations. It was built on money given by the people in honor of the victory over Napoleon in 1812. It was built over 50 years and only stood for 60 years. In 1931, the Soviet government blew up the cathedral, a tragedy in world history. Different parts of the interior from the ruined cathedral can still be found in different corners of Moscow.
The location of the Cathedral itself, on the bank of the Moscow River, seems to be contain a mystery – nothing stay there for very long. The Monastery of St. Alexius was removed to make way for it. After that, the Cathedral itself experienced the same fate, making way for Stalin's most significant project – the Palace of the Soviets. But that was not fated to materialize, and after a lengthy state of neglect the gigantic Moskva Pool. However, it did not live for very long – 34 years. In 1995, the Cathedral was erected again.

You can see this corner of Moscow on our themed tour and assess to what extent this new building of concrete and bronze matches the original, how well the original concept was preserved, and what the complex and very deep story told by the Cathedral means.
Reader opinions Ratings: 3 (average 5 of 5)
Guided tours that include this sight
See all
We will show you the most varied facets of the city: history, artwork, architecture, and daily life. In only two days, you can become a genuine expert on the city.
Read more
This travel itinerary will let you see Moscow in different ways, both as a guest and as a local Muscovite, you will visit many places and learn a lot about Russian culture and life. The...
Read more
Four days in Moscow is long enough to study the city from A to Z, from the famous must-see sights to the unusual and unique ones that tourists rarely visit.
Read more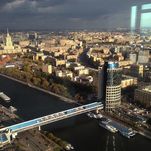 A sightseeing tour around Moscow, or, as we call it, a panoramic tour. This tour will allow you to see the main sights in Moscow in a short time frame (3-4 hours). This option is perferct...
Read more